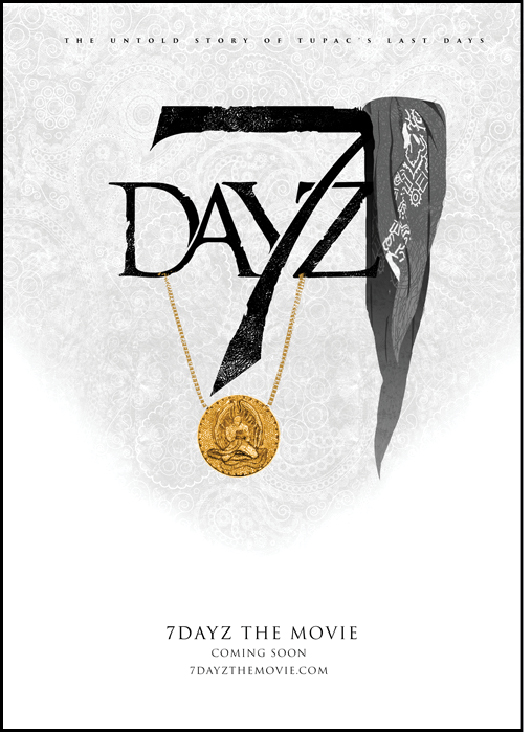 September 7, 1996 was the day the legendary rapper Tupac Shakur, was shot. This day not only affected his millions of fans from around the world, but also changed the life of Gobi M. Rahimi.
During the last seven months of Tupac Shakur's life, Rahimi served as Tupac's collaborator, friend, and impassioned soldier. Gobi, who has since worked with artists such as Yoko Ono, Mary J. Blige, Queen Latifah, BabyFace, Brandy, Missy, Trent Reznor, directed one of Tupac's most popular songs and most requested videos on MTV, "2 Of America's Most Wanted."
As an Iranian kid, coming from a background of selling real estate, Gobi found himself in the inner sanctum of one of the most prolific and controversial artists in any genre of all time, Tupac Amaru Shakur.
Rahimi, was waiting for Tupac at the 662 club in Las Vegas, after the Mike Tyson-Bruce Seldon fight in 1996. Soon after, singer and friend of Tupac, Nate Dogg, informed Rahimi that Tupac and Suge Knight had been shot and were then being taken to University Medical Center in Las Vegas. He immediately rushed to the hospital to be by Tupac's side. This was the first of a gripping seven days that Gobi sat guard over the rap star who lay in an induced coma, riding the line between life and death.
The story of 7Dayz, is the telling of the true events of how Gobi entered the world of Hip Hop, soon to become Tupac's business partner, director, and friend. The film takes you on an emotional roller coaster of the unbelievable drama that unfolded from the time Tupac was shot until the day he passed. What separates this film from the others is Rahimi's own catalog of never before seen footage of Tupac, and using that footage in a very creative way that allows Tupac to play himself. Sadly, this will be the last film that Tupac Amaru Shakur will ever star in.
After 20 years, Gobi is ready to tell his story. He has partnered up with his fellow Iranian producing partners, entertainment veterans, and entrepreneurs, Reza (Ray) Moheet (vice president, theatrical at Levity Entertainment Group and producer of Jimmy Vestvood: Amerikan Hero starring Maz Jobrani), and Arshia Bolour. entrepreneur and former independent record label executive.
In the spirit of independent filmmaking, the Iranian dream team has put together a crowd funding campaign on Indigogo.com. A variety of one of a kind prizes will be given away for donations that will range from $5 to $25,000.00. Prizes range from film crew t-shirts, sweatshirts, limited edition never-before-seen photos of Tupac, speaking roles in the film, and an Executive Producer credit on the film.
As Gobi has said in many interviews in the recent past, "I'm going to focus on harnessing the power of my own culture and community to rally them in supporting this film, so that we can make a small, but significant, shift in the way Iranians are typically thought of or portrayed in film and media".
The team of producers have already created a powerful presence on social media platforms, such as Twitter, Facebook, and Instagram, all of which can be accessed on the films website 7dayzthemovie.com. They have also partnered with Much & House, one of Hollywood's most respected public relations firms, which will be responsible for outreach with news of the project in advance and during the Indiegogo campaign that began this month.
Gobi, Arshia, and Reza have also been in negotiations with powerhouse music label, Strange Music, to collaborate on a Unity Album for the soundtrack and scoring of the film, which will include a who's who in all genres of music. The team will also be working with the Iranian rapper YAS, who is not only a huge fan of Tupac, but is considered the most prolific rapper in the Iranian music scene. YAS shares a very similar trait with Tupac in how he brings attention to the same causes and issues Tupac was trying to bring to the forefront in his work. The team of producers have also brought on Preston L. Holmes as a producing partner. Holmes has been responsible for films such as Malcolm X and Hustle and Flow.
This project is the first in a slate of films the trio have in the works. They believe, "Supporting this film means pave the way for the next generation of young Iranian filmmakers in America."
For more information, please visit the below links:
http://7dayzthemovie.com
https://twitter.com/7dayzthemovie
https://www.facebook.com/7dayzmovie
https://instagram.com/7dayzthemovie/
https://www.youtube.com/user/7dayzthemovie
http://www.rollingstone.com/music/videos/tupac-shakurs-murder-examined-in-new-national-geographic-doc-20140702
https://m.youtube.com/watch?v=45LPX0Kefoo