THE SUCCESS OF THE ALBUM SHENASNAMEH, THE NEW TOUR, AND WHY EVERY GENERATION LOVES THEM:
A CHAT WITH KAMRAN & HOOMAN
By MasaZokaei
It's hard to believe that has been six years since the release of Kamran & Hooman's debut album, 20. It's hard to believe because the pop duo has been touring nonstop, that Persians all over the world are still avid listeners of the album, and their songs have had record internet hits. Their music has remained timeless.
Since the release of 20, the guys have been busy. They created a remix album, a collaborative album entitled Yadeghari (Ebi Va Kamran & Hooman), and now the much-anticipated release of their follow up, Shenasnameh.
Recorded at Sonic Dezine in Valencia, and studios in Hollywood, the album had a buzz since day one. "Behtarini", the second single, has already exceeded 1.3 million hits and held the #1 spot for most requested video on PMC for two consecutive weeks.
 "It's important to evolve as artists," Hooman says about what people will hear in this album, "We want the emotion from the 20 album but we wanted to evolve on this album, lyrics-wise, production-wise and emotion-wise.
As an artist, I think if you stick to one style and you don't evolve, it becomes redundant. Artists have to evolve."
Although the style has evolved, the songs are still very much about love.
"Kamran & Hooman love to sing about love, and we decided to name the album Shenasnameh to connect with the young generation in Iran," Kamran explains.
Kamran and Hooman both add: "The song is a true story about the young generation of Iranians living in Iran."
And the styles they have incorporated, including classical and electronic pop, help them to connect with a young generation of listeners, as well as an older generation.
"There is a balance in this album," Kamran elaborates, "The lyrics, the messages, the rhythms, the electronic pop and classical music aspects create this combination where three different generations can appreciate it."
Their concerts all sell out, and even faster since the release of the album. The guys are able to make music for the adoring young fans, and also expand their audience. You could be a teenager or a grandma, and you were going to find something you liked about their music.    
Between traveling, make music and finding time to relax if they get the chance, Kamran &
Hooman make it a point to communicate with their fans. They personally check their Facebook page. 
"It's important for us because we always look to what the reactions are from the fans and we always want to make new fans. When you release your work and it's embraced in such a positive way…we are so thankful," Kamran says.
I ask them about a crossover album, since they speak fluent English and did so during our conversation, as well as French. They are working with a few well-known American producers. On what exactly, they're keeping a mystery for now.
But the songs on Shenasnameh are exclusively in Farsi.
Hooman explains," Whatever audience we are singing for we need to make sure that we are connecting with them. We don't want to mix it."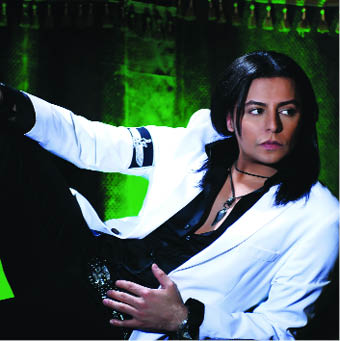 Kamran adds, "We want to be close with Iranian people through our music. We want to find a warm place in people's hearts. Once we established that, and we feel that we have, then we can talk about other music. It was really important to us to connect to our roots."
The first music video from Shenasnameh, "Mesleh Khodet", directed by Ravi, was shot in the Warner Bros. Studios, and it was the first time that an Iranian artist had ever done so. The guys have been working hard on the production of these videos to be able to release one their fans would appreciate and to do so frequently. In fact, after December, they plan to release a video almost monthly.
Right now, they're planning their next concert in Las Vegas on December 23 at the Planet Hollywood Amphitheater and then it's off to the European tour for a year. In the middle of it, they plan to come to Los Angeles for a massive production they say will surprise their fans.
Kamran & Hooman's record label Avang Music, whom they express much gratitude for, were so pleased with the success of Kamran & Hooman's music that they decided to promote the album on billboards across Los Angeles. They're also planning an album release party and red carpet event at the end of January.
By the end of our conversation, it's clear to me how humble Kamran and Hooman really are. They spend half the time talking about how important their fans are to them and how grateful they are for the people who have helped make this album.
When asked what their favorite songs are on the album, they said it was hard to choose. It depends on their moods. However, they say that "Nemeedoonam Cherah" is one that stands out, being that it's the one that they dedicate to fans.
When recording the song in the studio, Kamran says, "We imagined we were singing to all of our fans."
You can keep in touch with Kamran and Hooman through their website KamranHooman.com and their facebook page facebook.com/kamranhooman.
Shenasnameh album is available for download on iTunes and Avang.com
Kamran & Hooman wish to give special thanks to: Ramin Zamani (who wrote 9 of the songs on Shenasnameh), Maryam Heydarzadeh, Payam Shams, Roma Kanyan, Farhad Zand, Siros Kerdouni, Alex Ferra, Ravi, Pedram Dolatabadi, Allan Buenafe and, of course, Avang Music.