Photos by Arash Tebbi
Los Angeles, CA – Persian Women in Tech (PWIT), an organization with over 10,000 members globally, dedicated to connecting, mentoring, and empowering Persian and Middle Eastern & North African (MENA) Women in the Technology space is honoring 9 Inspiring Persian Women in STEM fields. This initiative celebrates and elevates the powerful iranian female forces from Los Angeles with a population estimates between 300,000 and half a million, the largest concentration of Iranians in the world, outside of Iran, who are leaders and influencers in one of America's largests cities and technology sector. With this movement we are challenging the stereotypes and building a community to support each other. Our technology landscape would not exist without the achievements and contributions of incredible tech women pioneers throughout history—and the communities and teachers who support them. When we all support, assist, and encourage women's achievements, incredible things happen, and new ground is broken.
"We are thrilled to celebrate the one-year anniversary of Persian Women in Tech in Los Angeles to elevate the profile of Persian Women working in technology. Throughout the year, we have connected with a number of Los Angeles tech companies including Oath, Google, Microsoft, Hulu, Phenomenon to foster networking connections to ensure that these women's incredible talents are elevated in the tech and STEM world in Southern California," said Sepideh Nasiri, Founder of Persian Women in Tech. Sepideh adds that, "in an industry that is still coming to terms with aits ubiquitous culture of sexism and lack of diversity, it is important now more than ever for women and people of color to be given access to opportunities to showcase their talent and entrepreneurial spirit. Persian Women across Los Angeles are starting successful companies and creating innovative technologies that are quite literally changing the tech industry—challenging negative stereotypes about their community and bring their own seat to the table."
Bita Milanian, Senior Vice President of Global Marketing at Ribbon
Bita Milanian serves as the Senior Vice President of Global Marketing at Ribbon & its Kandy.io division. With over 20 years of marketing, branding and communications experience, Bita has held senior-level marketing positions at various companies, including TPx Communications and Global Crossing. Prior to joining Ribbon, she held the top post of Executive Director for Farhang Foundation (farhang.org) and is also the founder of the creative and consulting agency Butterfly Buzz (bflybuzz.com), which she still operates as a means to continue her humanitarian work, support up-and-coming artists, as well as non-profits, to enable them to increase their profiles and optimize their brands.
A passionate community organizer, Bita actively volunteers her time and expertise in support of numerous causes and organizations and is a popular speaker at various conferences and programs on the topics of technology, philanthropy, art, culture, social justice and gender equality.
Bita has been a social media influencer and blogger since 2000, leveraging her expertise in online platforms for business to raise the profiles of global entrepreneurs, immigrants and artists alike who are being the change in the world they wish to see, building on Gandhi's philosophy.
Although an Angeleno for nearly 30 years, Bita considers herself a global citizen and focuses her efforts on that scale. Bita attended California State University, Northridge studying Business Administration and Marketing, and Kaiserin Augusta Schule in Cologne, Germany. Prior to Germany, she spent the first 13 years of her life in Iran, where she was born.
Dr. Niki Bayat
Co-Founder & Chief Science Officer of AesculaTech
Niki is an exceptionally talented engineer and innovative entrepreneur who has made important contributions to the chemical and biomedical engineering field with multitude of applications for the ophthalmological and medical device industry. During her PhD, she has developed ground-breaking biomedical devices including an injectable hydrogel for sealing open globe eye injuries, a reversible thermo-responsive adhesive patch for sealing injuries, and smart hydrogels that provide a unique platform for drug delivery. Her PhD research which led to development of injectable hydrogel sealant was featured on the cover of the Science Translational Medicine. Currently, together with a team of scientists and engineers, she is in the process of commercializing another one of her inventions through the company she co-founded, AesculaTech, Inc. They are working to develop a platform of thermally responsive materials for sustainable, localized drug delivery. This work is particularly effective for patients who have daily requirements for administering eye drops.
Anna Farzindar, Ph.D. CEO and co-founder of NLP Technologies Inc.
and faculty member of the Department of Computer Science at USC, Viterbi School of Engineering
Dr. Anna Farzindar is a faculty member of the Department of Computer Science at University of Southern California (USC) Viterbi School of Engineering in Los Angeles. She started research in Artificial Intelligence and Natural Language Processing (NLP) over 20 years ago. She is the author of several books and numerous scientific papers. She received her PhD in Computer Science from the University of Montreal and her Doctorate in automatic summarization of legal documents from Paris-Sorbonne University in 2005.
She was the CEO and co-founder of NLP Technologies Inc., a company specializing in Natural Language Processing (NLP), established in Montreal, Canada (2005-2016) and was the Adjunct Professor at University of Montreal (2009-2015).
She also studied art at School of Fine Arts, École des Beaux-Arts de Versailles in France. Her work has been featured in several group exhibitions as well as solo exhibitions and journals. She received Femmessor-Montréal Awards 2015, Succeeding with a balanced lifestyle, in the Innovative Technology and Information and Communications Technology category because of her involvement in the arts. Her paintings have recently been published in a book titled One Thousand and One Nights. In which the palette of vivid colors and her unique contemporary style revolved around on the place of women in modern society (Vernissage & Artist Book Launch, Montréal https://www.youtube.com/watch?v=TLCghx1mvzY)
Dr. Farzindar has served as board member, Conference chair and Industry Chair of several associations such as Canadian Artificial Intelligence Association (2013-2015), Chair of the technology sector of the Language Industry Association Canada (AILIA) (2009-2013) and Canadian Advisory Committee of International Organization for Standardization (ISO). She was Honorary Research Fellowship at the Research Group in Computational Linguistics at the University of Wolverhampton in UK (2010-2012) and Lecturer at Polytechnique Montreal, engineering school in Montreal Canada (2012-2014).
Dr. Melinda Hakim,
Ophthalmologist and CEO
of DoctorCPR.com
Melinda Hakim graduated Magna Cum Laude from Harvard College and received the John Harvard Award—the highest academic scholarship at the university. She then graduated from Johns Hopkins Medical School and the Yale University Executive Management Program. Dr. Hakim completed her ophthalmology residency at the Doheny Eye Institute in Los Angeles. She was voted one of the Top 10 Ophthalmologists in Los Angeles by Vitals.com and is a recipient of the Excellence in Medicine Leadership Award by the American Medical Association. She has also been voted America's Top Ophthalmologist by the Consumer Research Council and Super Doctor in Ophthalmology by her peers for over five consecutive years.
Dr. Hakim has been a passionate entrepreneur since her teens and has founded four profitable companies. She is dedicated to building and promoting healthcare technology that can be used to advance the careers of physicians. She is a healthcare columnist at the Huffington Post and serves on the Healthcare Board of the Los Angeles Venture Association. She is also the Administrator for the Los Angeles Physicians Facebook Group and the LA Doctors Meetup. She is the Founder and CEO of a popular digital platform, DoctorCPR.com, which uses artificial intelligence algorithms to match physicians all over the country with their dream jobs. DoctorCPR.com currently has over 240,000 physicians of all specialties and over 1,000 recruiters on its platform. The company hosts a physician career blog with a readership of over 300,000 and runs networking events for thousands of physicians and dozens of innovative healthcare companies on the West Coast.
Tech.co named DoctorCPR.com "One of the Top Six Essential Apps and Sites for those in the Medical Profession" and Totally Hired recently selected DoctorCPR.com as one of "The Top 4 Physician Job Boards in the United States." In light of its traction, DoctorCPR.com was chosen by Google for a selective strategic partnership and accelerator program for the fastest growing online companies.
Jessica Naziri,
Founder of TechSesh.co
Jessica Naziri is an entrepreneur, technology expert, writer, and speaker. She is the founder of TechSesh.co, a modern woman's destination for all things tech and a community based organization dedicated to empowering women in STEM and leadership roles. Naziri's mission is to help create and endorse a growing number of female role models, advocate a more equal gender ratio in the start-up and tech scene, and awake an interest in young women to join STEM fields. On TechSesh you can find everything from the latest tech and gadget news including tips, reviews, and a variety of community initiatives, meet-ups, technical workshops and actionable advice on advancing your career in tech.
Naziri started her career as a technology reporter for CNBC, The Los Angeles Times and later as a tech exec at a local start-up in Los Angeles. After seeing the gender gap in technology first hand, she wanted to work to close the gender gap and to change the image of what a girl in tech looks like and does.
Naziri was recently listed on Inc.'s 30 Inspirational Women in Tech and Create and Cultivate's Top 100 Women in Tech. Her work has appeared in CBS, Fox Good Day LA, TechCrunch, The Washington Post, Mashable, The Travel Channel, NPR, Inside Edition, Yahoo!, and Business Insider, and more. In addition, Naziri consults with technology brands including Google, Qualcomm, Dell, and Samsung, creating online content, mobile marketing strategy, videos and social media to get their message out to a millennial audience.
Radin Rahimzadeh – Smart City & Intelligent Transportation Consultant, GoMentum Station
Radin has worked in the private, public and nonprofit sectors, transitioning from a career in finance to one of technology and transportation. This shift has allowed Radin to explore her passion for using data science to elevate stories, build economically and environmentally sustainable cities, and empower civic spaces. Radin's technology expertise spans across connected and autonomous vehicles (CAVs), smart cities, intelligent transportation systems, IOT, and blockchain. Radin is currently a smart city and connected and autonomous vehicle specialist with Advanced Mobility Group, focusing on innovative projects that include: Mobility-as-a-Service and the GoMentum Station, one of ten federally approved autonomous vehicle testing sites. In this capacity, she advises on future modes of mobility, infrastructure, policy and economic resilience with the goal to ensure that innovations in transportation are developed and deployed as a result of diverse, intersectional and inclusive conversations as well as P3 collaborations.
Radin has seen first-hand the critical function that nonprofits contribute to society as incubators of innovations to solve 21st century challenges. This perspective has been nurtured for her both as a founder as well as a strategic adviser to incredible female change-agents and founders in this unique space. With each role, Radin foster's the motto to connect, converse, and build community in the capacity of Board Advisor and Los Angeles Chapter Lead for Persian Women in Tech.
Sadaf Amouzegar,
Data Scientist at RivetAI
Sadaf Amouzegar obtained her B.S. in Computer Science from the California Institute of Technology in 2015. Since then, she has applied and honed her skills on projects ranging from image-based activity recognition to rocket engine anomaly detection and distribution optimization for retail supply chains.
She is currently at the startup RivetAI, developing machine learning-infused and data-driven platforms that empower the art of storytelling. Her expertise lies in but is not limited to Bayesian statistics, natural language processing, predictive analytics, and deep learning.
Prior, Sadaf worked as a software engineer and data scientist at a number of institutions such as Qualcomm, Smartrac, and SpaceX. She has worked on developing algorithms to detect empty parking spots, using RFID technology to automate sales and distribution in retail, and implementing machine learning techniques to detect anomalies in rocket engines.
Sadaf was recently bestowed an honorary mention at the IBM-sponsored "Storytellers With Watson" competition for her project "ScriptAloud," which transforms written scripts into audio files and makes them readily available to casting directors and producers.
When she is not busy mining and crunching data, Sadaf likes to write poetry, and play percussive guitar.
Sepideh ("Sepi") Nasiri, Founder & CEO – Persian Women In Tech
Sepideh ("Sepi") Nasiri is an award winning serial Entrepreneur with 16 years of experience working in the Tech Industry, the Founder of Persian Women In Tech, the former Vice President at Women 2.0 and a life-time advocate for women, diversity and inclusion. Mrs. Nasiri started her career as a Co-founder and Managing Editor of a digital and print Los Angeles Magazine and later joined a number of successful startups in Silicon Valley. In 2014, she was recognized by San Francisco Business Times/Journal "40under40" and Diversity Journal's 2014 "Women Worth Watching". Currently, Mrs. Nasiri advises early stage startups including at global initiatives such as WeMENA (a program by the World Bank) and mentors globally many female entrepreneurs and founders in technology serving as an advisor to initiatives such as TechWomen, an initiative of the U.S. Department of State's Bureau of Educational and Cultural Affairs (ECA).
Shamin Rostami Walsh,
Managing Director, BAM Ventures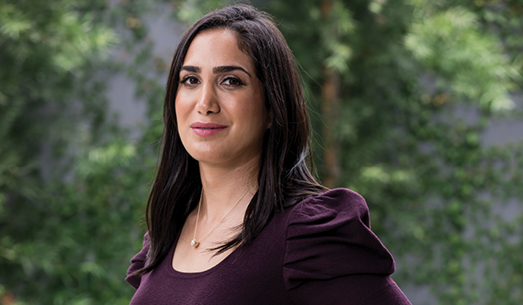 Shamin Walsh has over 10+ years as an active angel investor who gained experience in the consumer space through her early investments in companies such as Sweetgreen, Outdoor Voices, and Sir Kensington's.
Prior to joining BAM Ventures as a managing director, she was a consumer-focused partner at an early stage generalist firm with tangible assets in 3PL/fulfillment, cold storage/co-packing, and manufacturing, giving her a holistic perspective through which to evaluate emerging consumer businesses. She managed the investment portfolio and served on several boards, such as Alchemy 43. She also leveraged her experience as a transactional attorney to assist in contract negotiations, fund formation, and fund construction.
Shamin received her B.S. in Foreign Service from Georgetown University, and a J.D. from Loyola Law School. She previously served as an adjunct professor of Entrepreneurial Finance at Loyola Marymount University and currently serves on the Teach for America Associates Board and as an active mentor with the Fulfillment Fund.
Sophia Parsa
CEO and co-founder of Toot
An entrepreneur, community builder, and passionate leader, Sophia Parsa wants to see a world where technology is used to make education universally accessible. Sophia draws her largest influence from her father, a successful tech entrepreneur, and attributes her long-standing ambition to build an empire to a pivotal moment in her childhood in which she accompanied her father to CES at the age of 5. After the seed was planted, she never saw another course for herself, going on to start her first business at the young age of 20.
Today, Sophia has developed into the embodiment of entrepreneurship, serving as the CEO and co-founder of toot. Sophia's IOS application, Homework Answers, uses machine learning to teach students how to solve their math homework problems with an innovative whiteboard lesson. For her work at toot, Sophia has been recognized as a leader in education, selected as one of Forbes' 30 under 30 in the education category. In addition to her passion for education, Sophia is also the curator and founder of Mountain Gate, a community that catalyzes life-changing discussions and collaborations for young, revolutionary leaders across all spheres including education, music, social impact, space exploration, think tanks, and more. Mountain Gate has grown to 4500 members and featured notable speakers and guests such as Nicolas Berggruen, Keith Ferrazzi,Kara Nortman, Bobby Turner, Brock Pierce, Harley Pasternak, Sabrina Kay, Payal Kadika, Gunnar Lovelace, Wayne Chang, and more. Sophia is an angel investor in several consumer application startups.
About Persian Women In Tech:
Persian Women in Tech (PWIT) is a non-profit 501(c)(3) organization dedicated to celebrating and supporting Persian and MENA women in technology and STEM including engineers, technologists, founders, intrapreneurs, entrepreneurs and investors. PWIT organizes and facilitates programs such as the monthly PWIT City meetings, the WoMENA conference, mentorship and workshops for women in the technology and STEM fields to connect, mentor, and empower each other, inviting unique speakers to discuss entrepreneurship and technology. Persian Women in Tech's blog network provides a platform for members of the technology community to further network and exchange ideas.
www.persianwomenintech.com